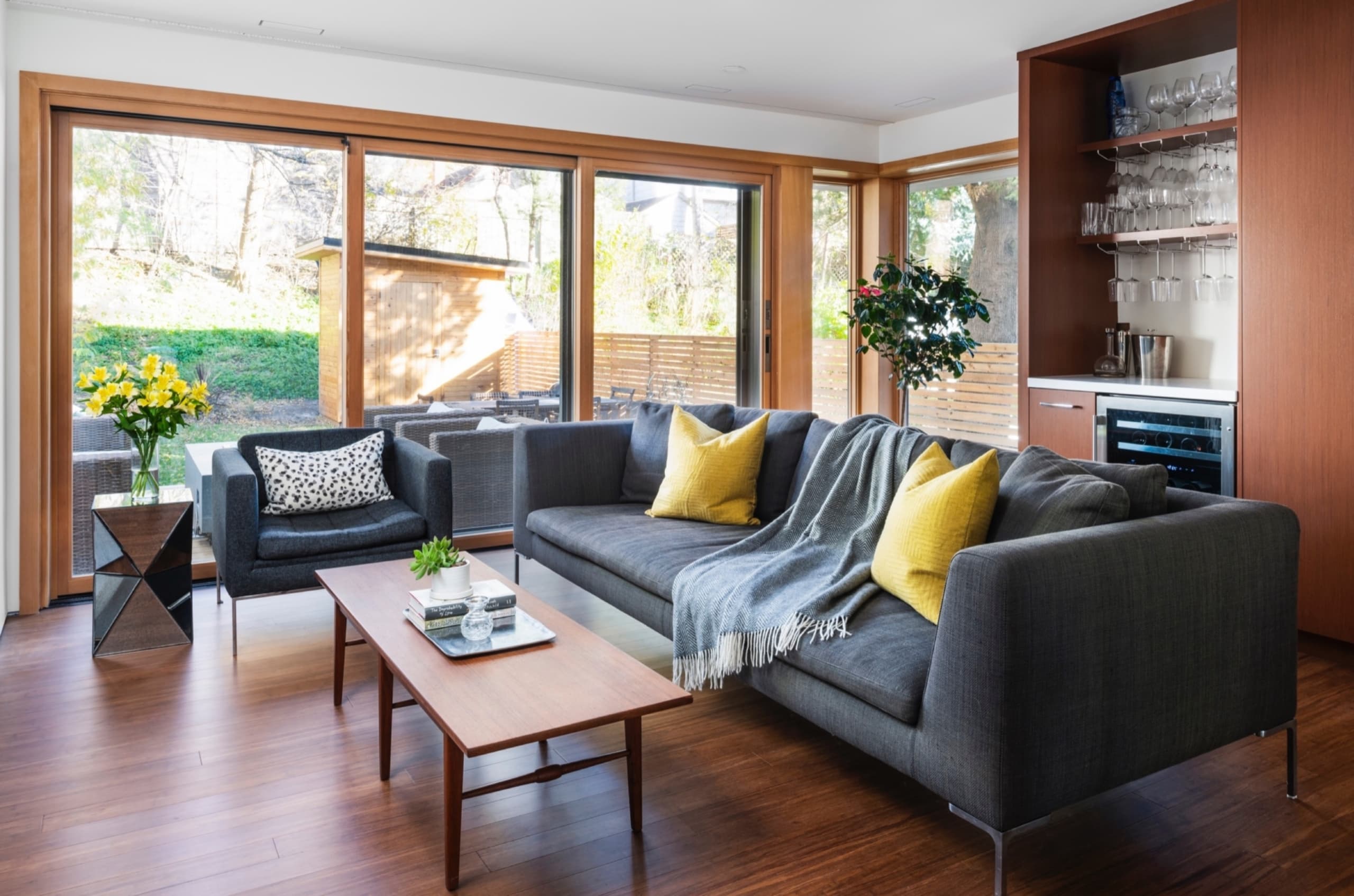 A contemporary 2-storey, 250 sq.ft. per floor rear addition with a full renovation of the existing 1,200 sq.ft. two-storey house.
Our Clients
Newly married, our clients bought a house together in the heart of Leslieville and seized the opportunity to "right-size" it.
They bought this detached home together with the intention to completely renovate and enjoy it into their retirement. It wasn't downsizing, since the intention was to add an addition to the back. It was a chance to create a home that was entirely theirs, created by them.
The existing house didn't have a big enough kitchen and lacked a ground floor with adequate flow for entertaining. There was no easy access to the backyard. The bedrooms were extremely small and the primary bedroom couldn't accommodate their king-size bed, an ensuite with a separate tub and shower or adequate closet space. They wanted the second floor to have a laundry room and retain two additional bedrooms, one of which would act as a study.
To maximize the rear view of their backyard and add some much-needed living space to the existing house, we added a two-story rear addition to the back of the home. The floor-to-ceiling windows and double doors on the main floor fill the space with light. The extra space allows for an open-concept plan with easy flow between the kitchen, dining and living room. The second floor now accommodates a large primary bedroom, walk-in closet and ensuite bath along with a guest bedroom, additional bathroom and office. The result is a modern, airy space that reflects the homeowners' tastes, lifestyle and future together.
The Neighbourhood
Leslieville
The neighbourhood of Leslieville, the stretch of Queen Street East from Pape to Greenwood, began as a small village back in the 1850s. At the centre of the neighbourhood was the Toronto Nurseries, which was owned by George Leslie and Sons after whom the neighbourhood was named. Leslieville's older houses along Queen Street, and south to Eastern Avenue were built in the late 1800s. They include Ontario Cottages, Second Empire row houses and quaint Victorian houses. Leslieville's second generation of detached and semi- detached houses, north of Queen Street, were built in the early 1900's.
Now a vibrant, hip and bustling neighbourhood known for its many brunch spots, Leslieville still maintains a friendly village vibe. But like many old Toronto neighbourhoods, the houses in this area were designed and built for very different times than those we live in today.
Complete renovation of all three floors of this detached east-end home. We removed the existing garage and added a rear two-storey addition which provides +250 square feet per floor. Full new kitchen, 2.5 bathrooms, basement underpinning, rear deck addition and various front exterior upgrades. 

We upgraded the windows and exterior doors, heating and cooling, plumbing, electrical, insulation, and updated finishes throughout the home. 

Drag images to explore + click to expand