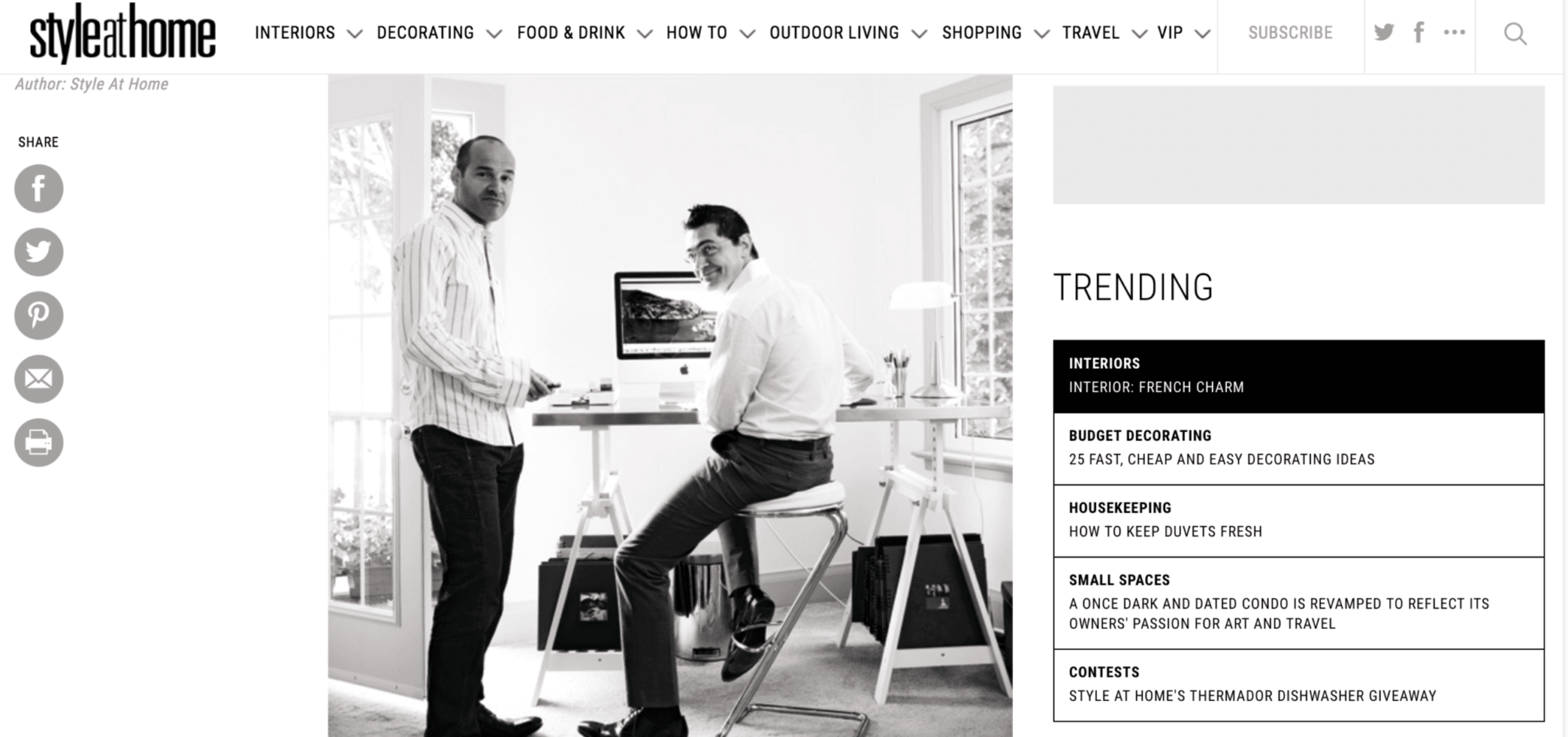 Style at Home Magazine Features Men At Work
Interior: French charm
A globe-trotting Toronto couple infuse their home with touches of France.
Author Stacey Brandford, photography Christy Wright, published in style at home, June 2010
When Laurent Papaix and David Toto, originally from the south of France, decided to buy a house, they set their sights on The Beach area of Toronto. "We wanted a home with a relaxing quality and ocean-like feel, like on ll de Re," says Laurent, referring to the island off the west coast of France. Though its sand dunes and salt marshes bear little resemblance to a big city, its rustic charm light-bathed beauty were perfectly translated to the couple's bright, airy three-story home.
Homeowners Laurent Papaix and David Toto spent four months renovating and a year decorating their new home. They say their house is now like 'a nest in the city."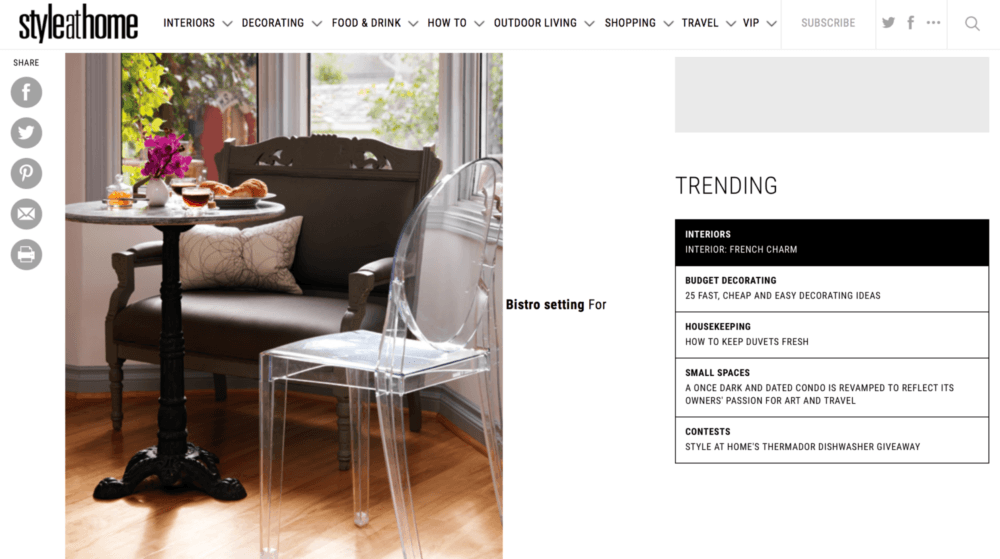 Bistro setting for Laurent and David, this sunny spot between the kitchen and living room is the setting for enjoying croissants and cafes. Laurent picked up the authentic marble-top bistro tables at Les Puces de St-Ouen flea market near Paris for under $150.
Kitchen other than the original birch floors, everything in the kitchen is new. "We didn't have space for an island, so the trolley is a compromise," says Laurent. "Our carpenter used salvaged wood topped with acid-washed marble." The farm-style sink has rustic edge that's tempered by modern pendant light.
Dining room through the china cabinet comes from an east-end Toronto shop, its slatted sides and glass-front doors reminded Laurent of cabinets from the south of France. French luxury is layered into the mix with a Basque table runner and dramatic dark silk-and-cotton drapes from Paris. The lustrous crystal chandelier was purchased on a trip to Savannah, Georgia.
Living room high and low items mix effortlessly in the living room. The antique mirror over the mantel rang in at over $500, but is perfectly at home with the vintage trunk scooped up for under $100. The antique ivory elephant figurines belonged to Laurent's grandmother, who lived on Africa's Ivory Coast.
Bedroom dark-colour shams punctuate the spot where the headboard should be. The bedside table was a HomeSense bargain; the DIY lamp was made from an at-home lighting kit–the use is a Spanish bottle, and the shade is from Restoration Hardware.
Sitting area next to the master bedroom, the third-floor sitting area is a welcoming retreat for reading and late-afternoon naps. The sofa, from the couple's former apartment in Paris, was covered in antique French colonial cotton that belonged to Laurent's grandmother.
Bathroom in the second-floor main bathroom, the piece de resistance is the claw-foot tub, which was positioned on an angle for a dramatic effect. "We spent a lot here because we felt it was important to be comfortable in the bathroom," says Laurent.
Power room crisp striped wallpaper and a new porthole-style window infuse the third-floor ensuite with a nautical feel. "we hate bathrooms with no windows," says Laurent. "Even though this wind is custom-made, it was much cheaper than installing a skylight." The ladder was an inexpensive antique store find.
Want to know more contact us to find out how we can transform your home.