10th August 2012
Two Home Additions: Home décor Magazine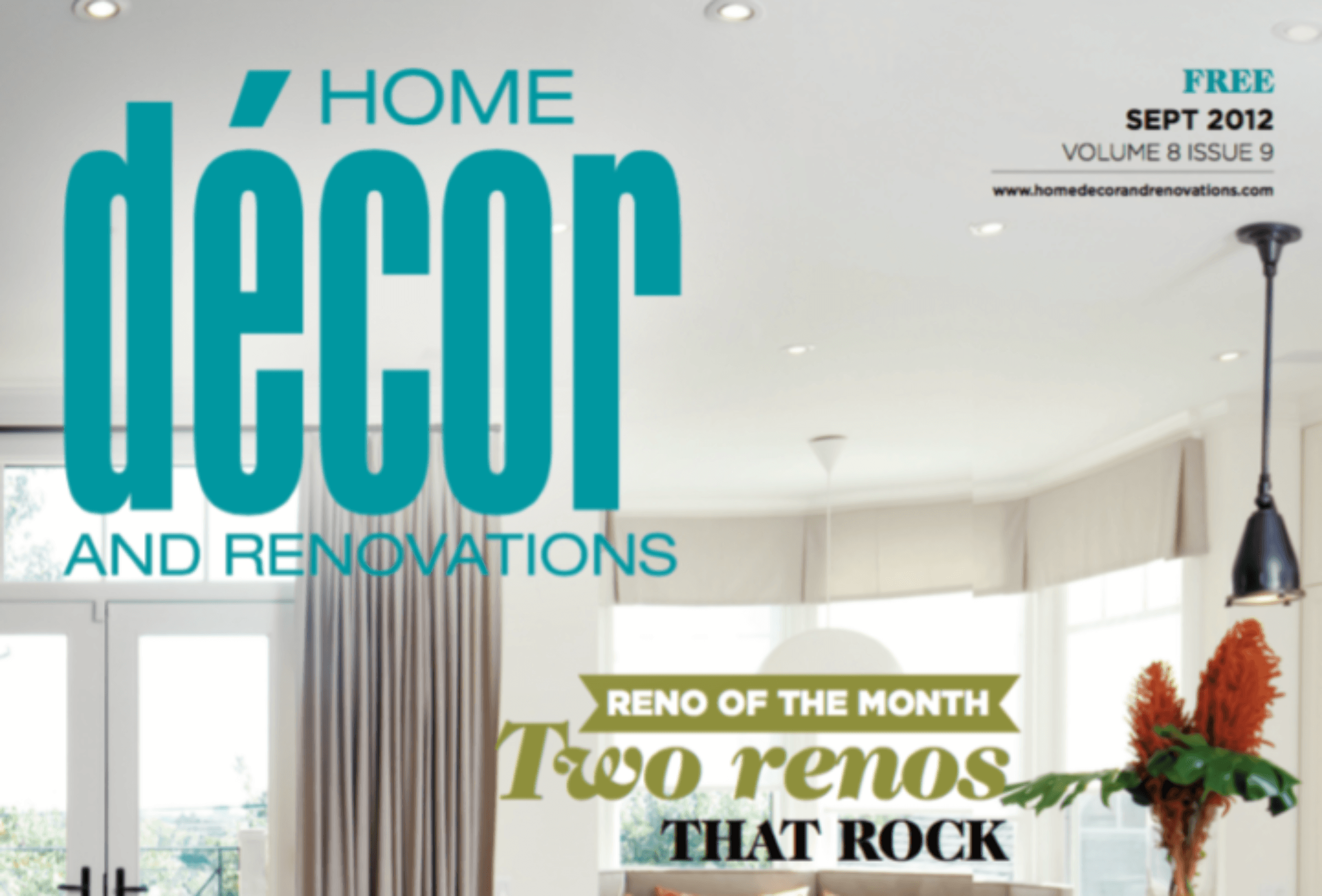 A Tale of Two Houses, authored by Silvana Longo, Home décor AND RENOVATIONS – September 2012, VOLUME 8 – ISSUE 9
Beautiful renovations don't just happen. They are usually the result of a talented team of experts coming together to make a vision of a more functional and beautiful home a reality. With the multitude of TV design shows igniting our desires for updated and upgraded living spaces, and the costly prospect on both budget and time, who do weary homeowners turn to when they have outgrown and outlived their cherished home and are in need of a complete overhaul? With aspirations of a design magazine-worthy reno, I would put my money on a winner.
This year's winner in fact, of the 2012 BILD Renovator of the Year award, Paul Gallop, owner of Men At Work General Contractors. A once-upon-a-time rock musician/singer-songwriter turned contractor – yes, his penchant for creating music morphed into a talent for composing beautiful home transformations – after over two decades in the business, with his work appearing in numerous HGTV design and renovation programs, the Men At Work influence in the Canadian renovation scene is far reaching. Fergus McLaren, Ed Richardson and other Men At Work team members, are regularly featured renovations on the popular show Love It or List It. They credit Gallop with creating the opportunity, and for invaluable mentoring and training. Gallop now has been officially recognized by the industry for his professionalism and high levels of client satisfaction in literally over a thousand renovation and addition projects. The breadth and beauty of his work is astounding, so this month's renovation spotlight is on two reno projects that Gallop orchestrated with his band of trusted professionals, tradesmen and design professionals. Specializing in home additions and renovations in older Toronto neighbourhoods to reach their maximum potential, here is a look inside the two little houses that could…and did.

Regal
REGAL: SCOPE OF PROJECT
Two-story addition at the rear with basement.
Original kitchen converted into a laundry room, powder room and server hallway.
New open kitchen and family room with a bay window area and banquette.
New archway links the living room to the family room.
Family room and kitchen are a couple of steps down from the original ground floor allowing more ceiling height, light and view to the back.
New in-law suite in the basement addition
New staircase to link the basement to the ground floor and to provide a semi-private entrance to the in-law space, and a mudroom area.
TIMELINE
Nine months, Initial planning and permits, three months. Designer on both reno projects was Jay Hodgins of Jay Hodgins Designs, (jayhodgins.com). He works with clients to determine their needs, establish design and décor preferences and like every reno project, be a creative problem solver. He worked on the concept space planning for Regal Road and insisted the Tudor style of the home be respected and reflected in the design.
"The whole idea of creating an English village feel to the backyard was important," say Hodgins.
Inside the home, the gorgeous escarpment in the Davenport and Dufferin area offers a stunning vista from the master ensuite, fitting for a gorgeous, deep soaker bathtub to take in all the outdoor beauty. With nature as its inspiration, it is illuminated by a tree twig fixture from Elte.
The homeowners' living and work needs were taken into account as well. They are both professional photographers, and the wife and young mother is a food photographer who works from home. With that in mind, Hodgins created a kitchen with a laboratory feel as the perfect backdrop for her work. He researched the old butler pantry design, which is sympathetic to the age of the house, and introduced it in the home in a contemporary way.
The powder room – a great room to experiment with colour and design, Hodgins introduced an egg-shaped basin and used wallpaper and bead board to add visual interest. He perked up the ceiling by painting it Robin's Egg Blue. The tastes and preferences of the homeowners are merged with the design esthetic of Hodgins, but as the addition came to life, the décor of the existing home needed some freshening up as well so Hodgins ensured the rest of the décor was cohesive.
He guided it in terms of finished and reveals, "the whole project was a combination of Armani with The Gap."
It was not super high-end, for instance, in the bathroom, it was the use of limestone on the floor with ceramic on the wall and an entry level faucet from Giner's.

Glenlake
GLENLAKE: SCOPE OF PROJECT

Existing enclosed front porch was removed and a new 14-to-16-feet addition at the front of the house at ground, second and basement levels.
Addition resulted in an expanded and brightened living room, a family room within basement, master bedroom expanded along with new ensuite washroom.
Kitchen renovation and opened up to a dining room.
Finishes were renovated and opened up to dining room.
Finishes were upgraded throughout with improved curb appeal.
TIMELINE
The project was undertaken in two phases. First phase: Kitchen reno took four months. Total planning and approvals were pursued for larger addition project taking eight months. Second phase: Committee of adjustment approvals were required for of the project which required owners to move out for approximately seven months to finish the addition.
Because the addition projects so significantly forward a neighbouring house, selection of exterior materials is important. Matching existing brick was not possible so stucco finish was chosen and the salvaged bricks from the demolished porch were sliced into veneer tiles and added on the stucco as decorative bands to link the old with the new.
Gallop points out that, "the lot is very small, narrow and irregularly shaped and the way to add more space was at the front." This restricted layout options for rooms but the optimization of the hall area to serve as a dressing and clothes storage was a key element to the success of the master suite, says Gallop.
The open concept plans he concedes are understandably popular for current family lifestyles but they present certain challenges for mechanical distribution to upper ducts that are normally route inside interior partition walls that don't exist in an open concept was resolved by concealing the required plumbing and heating lines behind the built-in wall unit in the hall area.
The unusual shape of the lot, the way it meets the curving street on angle may have presented layout options but it gives an interesting panorama of the street from the bay window in the master bedroom.
"The overall feel and look of the décor and finish is warm, comfortable and elegant. The walnut cabinets against the natural white oak floors contrast beautifully," says Gallop.
There is a natural warmth that comes from these materials, the tailored furnishings, window covering, paint palette and artwork add an air of refined order. It is a nice blend of tasteful decorated space that is family-friendly and livable for a family of four.
Home additions and renovation projects in older homes over the past 20 years have become Men At Work's niche, and Glenlake and Regal not unlike other renovations, had their share of challenges Gallop admits.
The end result is high function and seamless beauty as clients are able to enjoy their home with realized potential for modern living. Gallop humbly attributes his success largely to a cooperative team approach between contractors, architect, designer and clients. He fosters conditions and coordinates the parties to work together with constant communication and proactive problem solving. This, he assures is the key to their "winning formula for consistently delivering successful projects and happy customers."
He estimates that more than 80 per cent of his business comes from past customers and referrals. From lead singer to reno rock star, it is nice to know his fan base keeps growing.