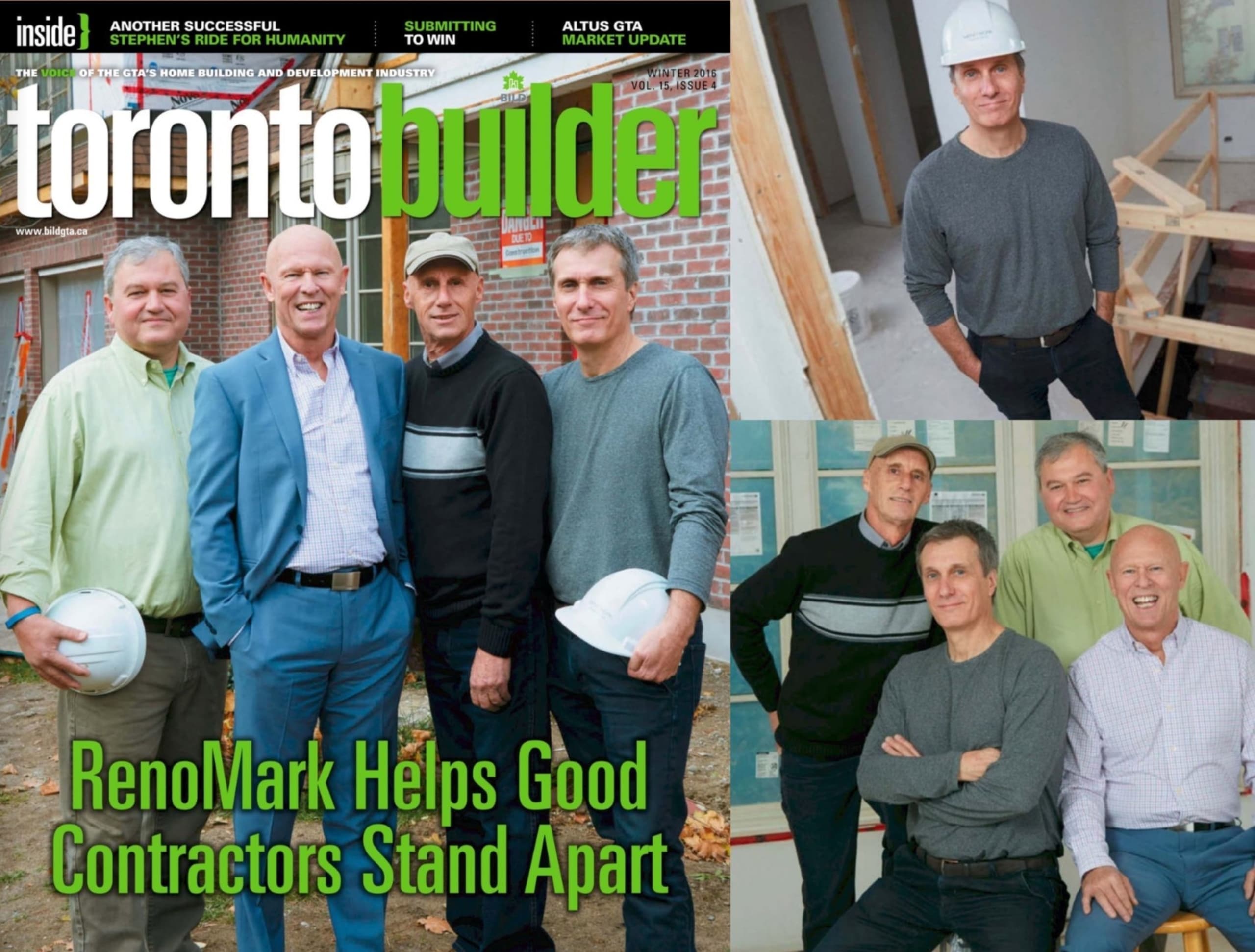 How Renomark Helps Good Contractors Stand Apart
THE PROGRAM PROMOTES PROFESSIONALISM & BEST PRACTICES FOR RENOVATORS
Renovator Frank Cohn had a big job on his hands: build additions on the front and rear of a ranch-style bungalow in Etobicoke and undertake a complete remodel of the home's interior. The seasoned contractor wasn't keen on tackling all the work himself. "I stopped doing additions a while ago because I didn't want to worry about things like weather—plus I don't really have the patience for it," the owner of Cohn Construction says candidly.
As a founding member of RenoMark—the nationwide source for professional renovation contactors and advice—Cohn thought it only made sense to hire a RenoMark renovator to give him a hand.
He ended up partnering with Carick Home Improvements. The company, owner and operated by Joel and Geno Scopelleti, is also award-winning member of BILD, which launched the RenoMark program 15 years ago.
"Anytime I need a trade, I try and hire another RenoMark where possible," says Cohn, adding he also features his RenoMark colleagues from time to time on the home improvement show he hosts Saturday mornings on Newstalk 1010. "I know they share the same values as I do when it comes to renovations, so I can hire them with complete confidence."
Much of the confidence stems from the fact that RenoMark members commit to a Code of Ethics and renovations-specific Code of Conduct. At a time when renovation activity is at a record high across the GTA, and renovators are a dime a dozen RenoMark helps to make a clear which operators are reputable and professional.
"There's a tremendous amount of renovation activity these days, so it's important to have quality-control measures and performance standards," says Jon-Carlos Tsilfidis, president of Fairside Homes and Renovations Ltd, chair of the BILD Renovator & Custom Builders Council and a RenoMark renovator member. "the program provides consumers with peach of mind."

HOW IT ALL BEGAN
RenoMark traces its origins back to 2001, when BILD, then known as the Greater Toronto Home Builders' Association, set its sights on creating a marketing program to address negative publicity being generated by rogue home improvement contractors while avoiding fly-by-night operators.
"It was really about creating awareness that professional renovators are part of our association," says Helen Batista, BILD's vice-president of membership and the current manager of the RenoMark program. "That was the core thrust when we started."
Wanting program participation to be tied to a performance standard, the GTHBA linked the consumer-facing brand to a 10—point RenoMark Code of Conduct, which outlined what consumers could expect from its renovator members: a detailed written contract and scope of work for all jobs; a minimum two-year standard); $2 million in lability insurance (where $ 1 million is industry standard); and, most important, phone calls returned within two business days. "Focus groups had told us their number one complaint was contractors didn't return calls," Batista says, noting that it's mandatory for BILD renovator members to participate in the RenoMark program.
Mark Jackson, owner of Jackson & Associates and a founding RenoMark member, says the need to address a "lack of integrity" in the renovations business was the driving force behind the program's creation. "Returning a call within a few days? We felt that was a reasonable expectation, but no one seemed to be doing it."


EVOLUTION AND GROWTH
For the first five years, RenoMark was a local program, fully integrated with BILD's annual renovations awards and the National and Fall Home Shows under the banner of Destination Renovation.
Batista says RenoMark began to garner substantial nationwide attention following the creation of its website in 2006. RenoMark.ca provides a searchable, categorized database of renovator members who abide by the program's Code of Conduct. It also offers advice on process and execution, including an invaluable guide to the five essential steps of home renovation, and tips for selecting a reputable renovation professional.
Other home builder associations across Canada began taking notice of what was happening in GTA and before long sought to adopt the RenoMark program for themselves recognizing that renovation activity is locally driven.
In 2006, RenoMark gained early traction in Western Canada; the first official franchise was the Calgary Region Home Builders' Association, followed the next year by the Durham, Edmonton, Central Alberta (Red Deer), Ottawa, Saskatoon and Manitoba (Winnipeg) home builders' associations.
Things went to the next level in 2007 when the Canadian Home Builders' Association and Ontario Home Builders' both officially endorsed RenoMark. "Getting the support from the upper tier home builder organizations was crucial" says Barista. "It gave the program even more creditability and momentum.'
During the next two years, a growth wave saw 17 local/provincial associations across Canada adopt the program.
Today RenoMark has 77 per cent adoption rate by 43 local/provincial home builders' associations (including 22 in Ontario) and is in nine provinces across Canada from British Columbia to Newfoundland. "We're very proud to see our homegrown program has been adopted nationally," says Batista.
"It's heartening to share with so many other home builder associations and see their members recognize the value of RenoMark and support what it stands for."

WHY IT MATTERS
In raising public awareness and promotion professional renovation practices, RenoMark has done much to protect consumers from illegitimate operators combat the underground economy.
The program's online RenoGuide helps homeowners navigate the renovation process with advice on project planning and which renos provide the best payback upon resale. The guide also explains the pitfalls and financial risks that face homeowners who don't deal with reputable renovators. (in short: These contractors are less likely to pay taxes, have business license, or carry insurance for workers, all of which can have nightmarish consequences for homeowners if something goes wrong.)
What benefits and value do renovators get out of the RenoMark program?
Substantial educational and training opportunities for starters. BILD RenoMark members can attend monthly seminars on matters such as running a business, estimating effectively to get proper margins, and how to speak to clients. "A lot of guys in this business tend to forget it's a service industry," says Jackson. "They don't get that our job is to look after people."
BILD's Renovator & Customer Builder Council also organizes regular speaker events and presentations on issues of concern to renovators, such as building permit delays, parking enforcement around job sites, taxes, insurance and the underground economy.
"A lot of this information isn't make public, or you'd have to reading the news constantly." Says Paul Gallop, owner of Men At Work General Contractors and BILD's 2012 RenoMark member is a great way to stay plugged into what's going on in the industry."
"Before I was a member, I had this perception that everything I knew had to be guarded closely, not shared," says Gallop. After joining RenoMark, he realized competent and experienced renovators are more willing to share their knowledge and expertise with others. "That was part of my education, to realize that true professionals don't feel threatened by competition."

WHAT'S NEXT
Looking forward, Tsilfidis says he'd love to see RenoMark become more of a household name for consumers, "Just as people think of Expedia or Travelocity when it comes to travel, we'd like them to think of RenoMark as their go-to-source for renovators."
The program has been a big success to date, he points out, having expanded coast to coast across Canada, and gotten crucial buy-in from higher-level home builder associations. "So really the big challenge now is how do we cement RenoMark in the minds of homeowners?"
GTA National and Fall Home Shows present the best opportunities to talk directly to homeowners, ideal forums for advancing RenoMark's aim to raise awareness about the crucial difference between professional and unprofessional renovators.
But Tsilfidis says more can be done to fly the RenoMark flag. He suggests all three levels of home builders associations (federal, provincial and local) band together on a co-ordinated marketing campaign to spread the word about the program and its virtues. A big marketing push could do wonders, says Cohn. "A lot of people still don't have a clue about RenoMark, despite the fact it's been around 15 years. It's not just consumers, a lot of renovators don't know who we are either."
RenoMark has about 300 members renovators and trade contactors across the GTA at the moment. That's impressive, says Cohn, "and I'd live to see us even bigger." RenoMark, through BILD, has done a great job establishing itself as the voice of the renovation industry. "So it would be nice to have more people get behind this."
As an active member we are highly qualified to handled any renovation project you need. Let us help you Feel Right at Home!